Courses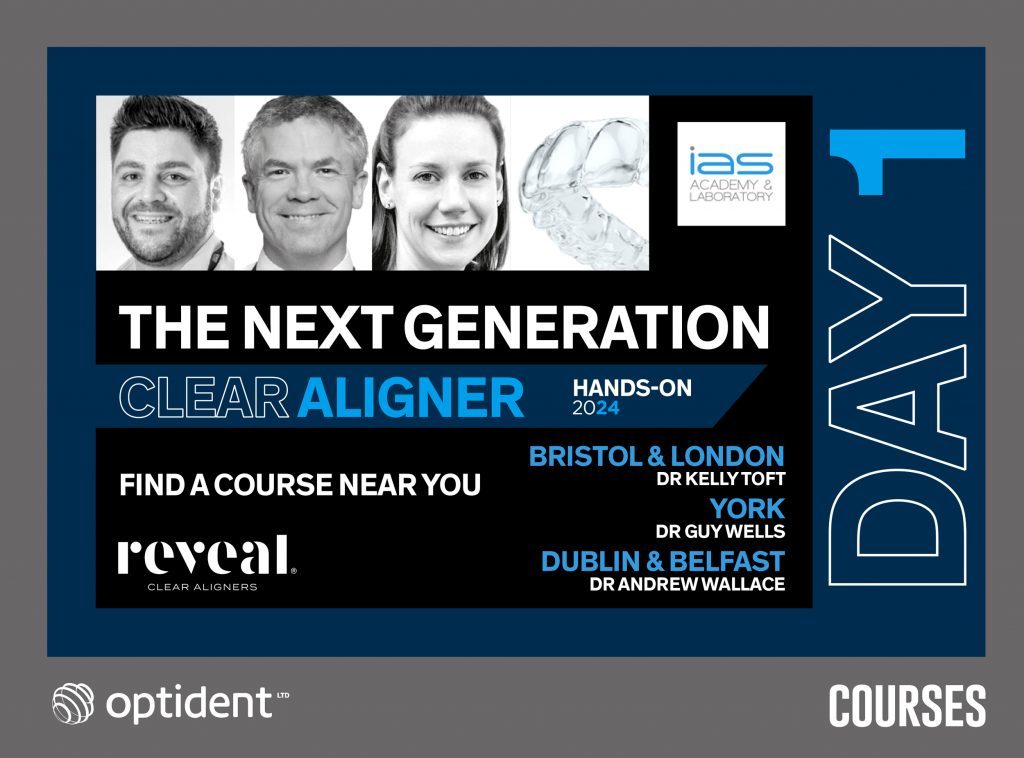 The Next Generation Clear Aligner Solution Hands-on Course – Aztec Hotel, Bristol
Join Dr. Kelly Toft & IAS Academy to empower dentists to confidently treat their patients with the best and most ethical treatments.
Course Overview
IAS Academy have partnered with Optident to deliver ortho restorative education based on successful aligner therapy aimed at General Dental Practitioners.
The Reveal Aligner training course allows you to combine cosmetic treatments to achieve a stunning smile in one treatment process.
Course Speaker
Kelly Toft graduated from Guy's, King's and St Thomas' hospital in 2003 with awards in orthodontics and restorative dentistry. She went straight in to general practice and has been in the same clinic for 20 years, taking a year out on the way to work in New Zealand at the Otago School of Dentistry. She has been providing orthodontics for the last 8 years and enjoys building relationships with patients so they understand why she recommends straightening their teeth, not just for the obvious aesthetic improvements! Kelly is a trainer and mentor for the IAS academy in both aligners and fixed appliances and also works in a second practice as a Dentist with a Special Interest in Orthodontics.
The Reveal aligner course covers all aspects of treatment from diagnosis, assessment, case evaluation, to fitting and then retention. After this course, attendees will be able to handle simple to moderate cases immediately. It is proven that getting started quickly will help you introduce Reveal clear aligners into your practice. You're supported every step of the way with an online mentoring system, where your cases are checked for suitability, your records are assessed, and assistance can be given at any point through treatment.
Included is access to the mentoring platform, allowing clinicians to post their first case for Suitability Checks, Treatment Plan Discussions and Full Case Support.
Course Content
Reveal Clear Aligner Theory & Hands-on
• Philosophy of minimally invasive aesthetic & interceptive restorative dentistry
• The workings of Reveal clear aligners
• Diagnosis, assessment & case selection
• Arch evaluation, space calculation & Inter-Proximal Reduction (IPR)
• Occlusal planning & retention
• Case presentations & troubleshooting
• Clear aligner attachment placement
Course Benefits
• Start with simple cases & introduce orthodontics to patients
• Mentoring with every case available
• Learn which cases to avoid & when to refer
• Integrate restorative dentistry with orthodontics
• Learn how to provide dentistry that lasts
• Clinical support & governance to keep you clinically safe
Learning Objectives
To educate and train dentists to offer anterior alignment orthodontics using removable appliances with a safe and ethical approach.
The Schedule
Start time: 09:00am – Finish time: 05:30pm
Timetable
8.30 – 9.00: Arrival/Registration (Tea/Coffee Available)
11.00 -11.15: Refreshments
13.00 – 14.00: Lunch
15.30 – 15.45: Refreshments
17.30 -Close
Development Outcomes
CPD Hours – 7 hours
Learning Development Outcomes: A & C
LOCATION – Aztec Hotel, Almondsbury, Bristol, BS32 4TS
To Book: Click here
Optident reserves the right to cancel an event due to low enrolment, inclement weather or other circumstances which would make the event non-viable. If Optident cancels an event, registrants will be offered a full refund. Should circumstances arise that result in the postponement of an event, registrants will have the option to either receive a full refund or transfer registration to the same event at the new, future date. Refund policy: 30 days. Attendees can receive refunds up to 30 days before the event start date.