The official dentalbeauty.tv app has arrived
Educate your patients on the importance of oral health.
Explain treatment options in a simple modern way.
Engage with your patients and develop their understanding.
Increase treatment uptake & grow your practice revenue
The brand new dentalbeauty.tv app gives you instant access to the full educational and promotional video library. Play on smart phones and tablets in your practice, or send V-mails to your patients in seconds, for them to watch at their convenience. This modern & unique app is simple, fast and engaging. It will help patients understand their treatment options and the benefits, in order to make an informed choice. The videos are delivered in a personalised carrier which allows the patients to view your website, contact you and share videos with
friends – great for referrals.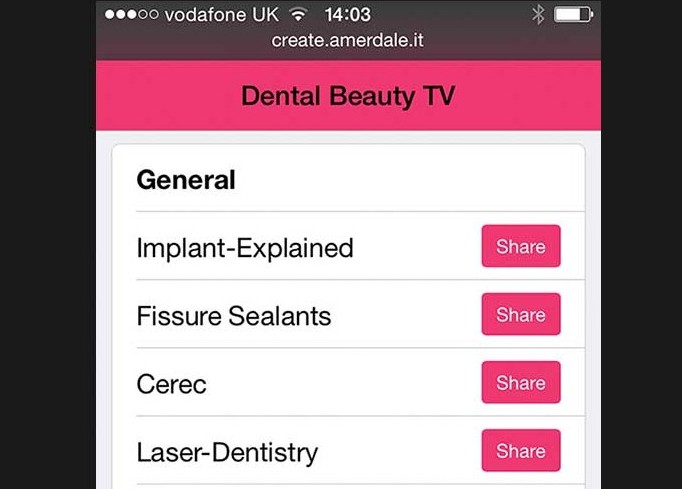 Video library includes: 
The importance of the check-up
How to brush, How to floss, How diet affects your teeth, Oral cancer explained, Occlusal problems explained, Endodontics explained, Implants explained, Crown and bridges explained
Fissure sealants for children, Tooth whitening explained, Removing white spots, Hygiene,
The importance of the hygiene visit, Airflow polishing, Periodontics explained, Aesthetic,
Composite restorations, Replace old fillings, Veneers explained, Orthodontic, Adult orthodontics, Clear aligners explained,  Exclusive Individual, Cerec, Lasers, Sports mouth guards, Anti-snoring mouthpiece, Velscope oral cancer screening, Identafi oral cancer screening
• All android phones and tablets
• Personalised video delivery
• Oral health, wellbeing & private treatments
• Automatic video updates
• Free software updates
Complete the package with the new plug & play waiting room video
Dental Beauty.TV is proud to introduce a totally unique way of presenting your patients with the services you offer while they wait. This specially designed waiting room video loop is just under 10 minutes long and comes delivered in a pre-programmed USB stick which plugs straight into your TV. This presentation combines oral health awareness with private and cosmetic treatments. It has subtitles with no sound, so that your patients can take in the information whilst relaxing with your own choice of background music. The Dental Beauty.TV waiting room video will help generate patient enquiries which lead to increased treatment uptake and revenue growth.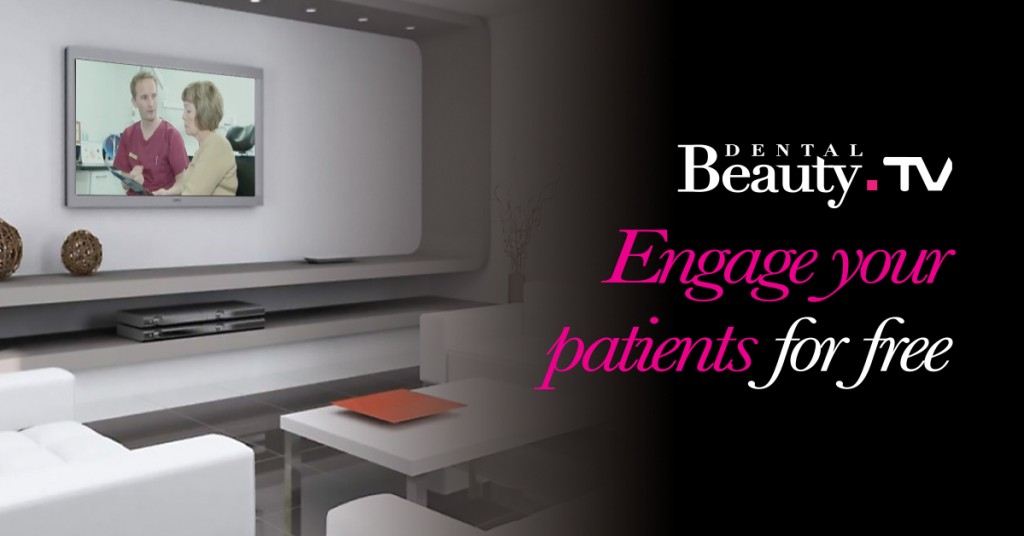 • Increase treatment enquiries & Oral health awareness
• Promote private and cosmetic treatments
• USB loop plugs straight into your TV
• No sound – Play your own chosen music in the practice
• Video loop just under 10 minutes
DBTV Special Promotion Terms and conditions: Offer valid for time limited only. Your free gift will be sent on receipt of cleared payment for your product purchase. Your product purchase cannot be returned for credit if ordered under this offer, unless returned with the unopened free gift.Your stator rights are not affected.This offer is only available to residents of the United Kingdom and Republic of Ireland. Optident Ltd shall not be liable for any delay or failure to perform its duties under this offer caused by any circumstances beyond its reasonable control. This offer is governed by English Law and is subject to the exclusive jurisdiction of the English Courts