Air-Flow S1 Unit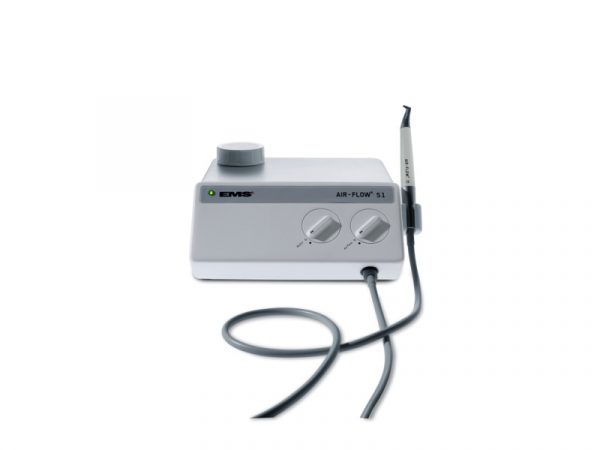 Product Details
Contents:
2 x Original Air-Flow Handpiece
1 x Original Air-Flow Powder Classic New Formula
1 x Steriboxes in stainless steel, ¼-DIN size
1 x Maintenance set with cleaning needles and seals
1 x Foot switch
Air-Flow S1 Unit is a highly efficient polishing unit utilising a specially formulated powder, mixed with air and water, to quickly remove extrinsic staining, soft deposits and stubborn pigmentations in fissures and interdental spaces alike.
Its ergonomic handpiece design allows excellent access to hard to reach interproximal areas and high-precision spray, with which you can generate the highest-quality dental treatment with the lowest possible powder consumption.
The Air-Flow unit automatically purges and cleans itself each time it is switched off. The built-in filters combined with the free-flow technology add to its improved performance.
With the Air-Flow S1 you will not suffer from powder clogging, lag issues or over-powder consumption at high energies to which some ordinary air-polishing flat-panel devices are prone to.
EMS devices have been designed and tested for exclusive use with EMS prophylaxis powders.
View the full range of EMS Products
– Ergonomic and particularly lightweight handpiece
– Free-flow technology prevents clogged powder-, air- and water-hoses
– Lightweight AIR-FLOW® handpiece with quick coupling
– Extremely light handpiece-hose
– Heated water jet for more patient comfort
– Plug-in couplings for water- and air-hoses and power cable and pneumatic foot control incl. connection cable
– Width – 250 mm
– Depth – 250 mm
– Height – 120 mm
– Weight (approx.) – 4 kg
– Compressed air supply – 4.5 to 7 bar (450 to 700 kPa)
– Water supply – 1 to 5 bar (100 to 500 kPa)
Hints & Tips
Recommended Position and Movement


Use a high speed suction cannula. Do not use the handpiece perpendicular to the tooth surface. Keep 3-5 mm distance. Direct the jet projections towards the cannula. Make continuos movement.

No More Colour = No More Biofilm


Stop Airflow once the colour of the disclosing agent has disappeared. Minimise exposure time on dentine.

Is Bleeding Normal?


Yes, in cases of gingivitis, bleeding will occur during Airflow treatment.