Gemini 810 + 980 Diode Laser Kit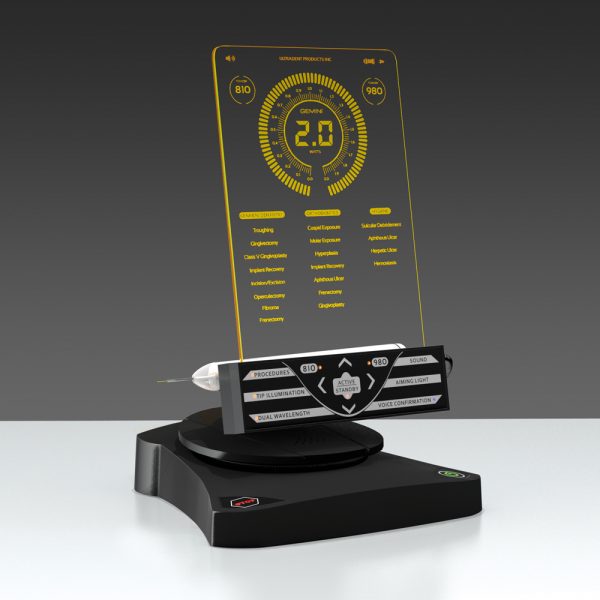 Product Details
Contents:
1 x Laser unit
1 x Wireless foot pedal (w/2 AA batteries)
1 x Hand piece
10 x Single-use pre-initiated tips
3 x Safety eyewear
1 x Power supply and extension cord
1 x User manual
1 x Training voucher
1 x Laser warning sign
The simple user interface has 19 preset procedures that automatically adjust the laser settings to provide the most effective power and pulse settings for common procedures.
The Gemini 810 + 980 diode laser uses unique dual-wavelength technology to combine the optimal melanin absorption of an 810 nanometer wavelength diode laser with the optimal water absorption of a 980 nanometer wavelength diode laser.
The electroluminescent display and sleek illuminated handpiece, which also features the convenience of pre-initiated tips, further set this powerful unit apart as the next generation of soft tissue diode lasers.
No matter the procedure, the innovative Gemini laser makes it faster, smoother, and more efficient.
– 20 watts of peak super-pulsed power means faster, smoother cutting
– Sleek, innovative design features a stunning transparent electroluminescent display
– Simple user interface and 19 pre-set procedures enhance ease of use
– Bluetooth foot pedal allows for wireless control
– Autoclavable handpiece makes sterilisation simple
– Single-use bendable tips are pre-initiated for reduced prep time
– Tip illumination provides better visibility at surgical site