I-Lase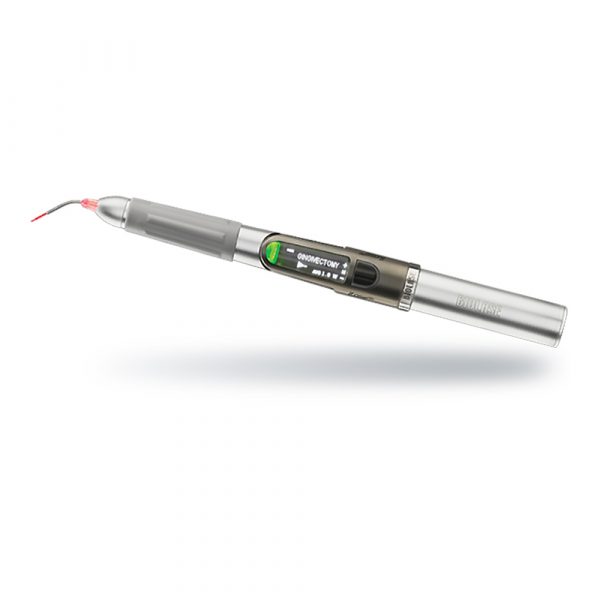 Product Details
Contents:
1 x iLase Unit
30 x Eztip Surgical 4mm
1 x Charger Battery
1 x Safety Goggles
2 x Diode Goggles
1 x Danger Sign
1 x Tip Initiation Kit
1 x Power Supply
2 x Cover Grips
Leave the foot pedal, cords and external controls behind with the I-Lase and experience a portable dental laser without compromising on power or efficiency. The iLase takes dental lasers beyond portable, and should be the new go-to instrument for your tray.
The iLase is the laser for every dentist and every hygienis, every day. The iLase uses BIOLASE's patented line of non-initiated and pre-initiated tips for fast clinical results.
iLase features all the power and control of a diode laser – in the palm of your hand. Avoid getting tangled in cords and wires with single, self-contained handpiece. Increase your productivity with a truly personal, unrestricted laser experience that is ergonomic and balanced, reducing overall hand fatigue for clinicians.
With the ability to engage the finger switch from different positions, the iLase allows maximum comfort and working efficiency, whether performing procedures in the anterior or posterior of the mouth. Plus, iLase's smart controls prevent inadvertent switching to Standby or Ready Mode. Weighing less than 100g, the ergonomically shaped iLase is light and features an exclusive wrap-around finger switch for optimum comfort throughout the day.
The iLase delivers power when you need it most. Whether the procedure is short or long, iLase has the battery life to meet your needs with up to 5 Watts of peak power for even the toughest soft-tissue cases.
10 pre-set soft tissue and hygiene procedures are already installed for your convenience and 2 extra custom pre-sets are also provided for a personalised experience.
Learn more about Optident's range of dental lasers and book your free dental laser demonstration
Wavelength – 940 nm
Max. Power Output – 3 W continuous, 5 W pulsed
Pulse Duration – 0.1 ms to 1 ms
Pulse Modes – Continuous or Pulsed
Laser Engine – InGAsP Semiconductor diode
Fiber Tip Diameter – 200/300/400 µm
User Interface – Integrated controls, finger switch
Touchscreen – 8.9×10.2cm
Pre-Sets – 13 procedure pre-sets
Size – 20.5×1.9 cm
Weight – 0.10 kg
Operating voltage – Lithium ion battery
– Finger operated
– The iLase also features "standby" and "ready mode" functions on the handpiece that guard against unintentional delivery of laser energy when picked up
– Convenient single-use bendable tips
– 5 watts of peak power and up to 3 watts of continuous power
– Fully charged battery lasts for many short procedures such as single tooth troughing, or longer single procedures such as pocket decontamination
– Affordable – each dentist and hygienist can work with their own personal laser
– 3 different power modes