Identium Medium Regular Intro Pack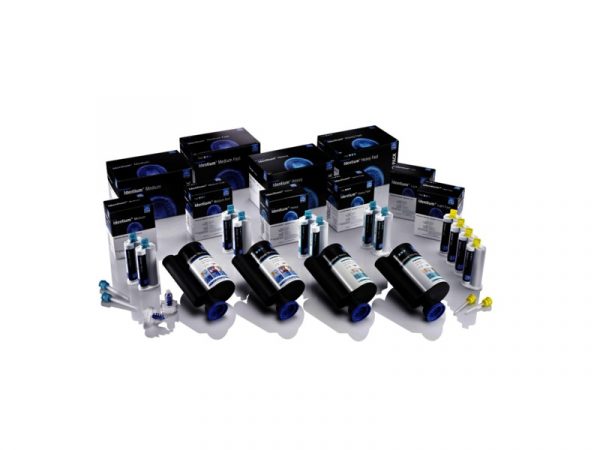 Product Details
Identium Medium is a medium viscosity, addition-curing elastomeric impression material based on Vinylsiloxanether with high final hardness. It is particularly suitable for taking impressions in implantology and for the fabrication of crowns/bridges, inlays/onlays and veneers as well as fixation and functional impressions.
Contents:
1 x 380ml Identium Medium Regular set
10 x dynamic mixers
1 x 10ml adhesive
1 x application syringe
Identium was specially developed for the one-step impression technique and combines the benefits of two established impression materials,polyether and A-Silicone materials, creating an entirely new material of Vinylsiloxanether. Identium provides excellent flowability, which in combination with exceptional hydrophilicty, ensures optimal flow behavior in a moist enviroment, even in the narrorest sulcus cervices. Due to its highly elastic properties, Identium exhibits dimensionally accurate recovery and allows very easy removal.
With the perfect balance between stability, flowability and pressure build-up and between long working time and short intraoral time, the material is suitable for the complete range of impressions.
View the full range of Kettenbach Products
Hints & Tips
Certain external factors may adversely affect the setting of the impression material:
Liquids or solutions that may be used in conjunction with retraction cords, Impression syringes that may still contain traces of polyether materials. Latex gloves and exceptionally warm working and storage areas.
Selection of the correct impression tray is most important.
Optimal dynamic pressure, stability and fit are essential in producing an accurate impression. It is recommended that light and medium viscosity materials be used in a closed tray. Heavy-bodied materials will also benefit from this, especially when using a one-step technique.
Ensure there is sufficient space between the tray and residual dentition
particularly if there are undercuts! (Approx. 4 mm)
Use the corresponding paint-on impression tray adhesive
Allow to dry (4 - 5 min.) before filling the tray with impression material. Poor bonding of impression materials to tray surfaces can lead to inaccuracies in the finished impression.
Don't dry the working area too much.
Because of the excellent hydrophilic property of the Kettenbach Impression materials, a little moisture working area is required to ensure optimal flow. (Lowest achievable contact angle)
Certain external factors may adversely affect the setting of the impression material:
Liquids or solutions that may be used in conjunction with retraction cords, Impression syringes that may still contain traces of polyether materials, Latex gloves and exceptionally warm working and storage areas.
Selection of the correct impression tray is most important.
Optimal dynamic pressure, stability and fit are essential in producing an accurate impression. It is recommended that light and medium viscosity materials be used in a closed tray. Heavy-bodied materials will also benefit from this, especially when using a one-step technique.
Ensure there is sufficient space
between the tray and residual dentition, particularly if there are undercuts! (Approx. 4 mm)
Use the corresponding paint-on impression tray adhesive and allow to dry (4 - 5 min.)
before filling the tray with impression material. Poor bonding of impression materials to tray surfaces can lead to inaccuracies in the finished impression.
Don't dry the working area too much.
Because of the excellent hydrophilic property of the Kettenbach Impression materials, a little moisture working area is required to ensure optimal flow. (Lowest achievable contact angle)