Valo LED Curing Light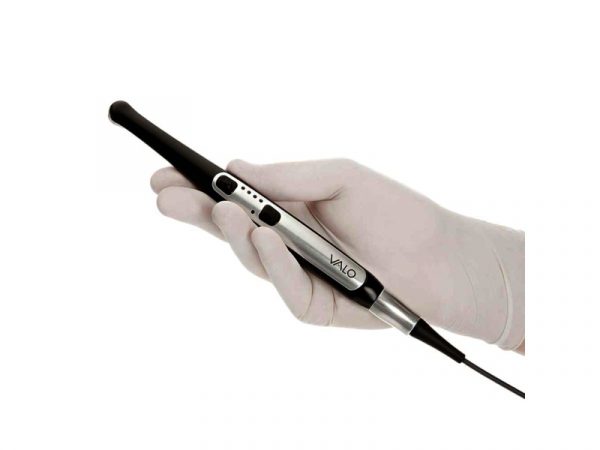 Product Details
Contents:
1 x VALO LED curing light – 7′ cord
1 x Power supply with universal plugs – 6′ cord
1 x Handpiece bracket holder
1 x Light Shield
50 x VALO Barrier sleeves
Designed for durability, accessibility and power
The VALO LED Curing light offers unsurpassed accessibility without compromising patient discomfort or curing efficiency. VALO's focused columnar beam delivers a complete, uniform cure and its efficient broadband LED's ensure that VALO doesn't overheat.
Every VALO starts as a solid bar of tempered, high-grade, aerospace aluminium, which is CNC precision milled. True unibody construction ensures VALO's durability and provides unsurpassed heat dissipation. With its aluminium wand, machined components, and tempered glass lens, VALO is the most durable curing light available.
VALO's wand-style body and lens system eliminates the need for a light guide, allowing direct access to all areas of the mouth without overstretching a patient's TMJ and soft tissues, a common problem that can occur with other lights. The elegant, ergonomic, and streamlined design enables VALO to easily reach all curing sites, delivering energy directly without sacrificing patient comfort.
With 3 curing options – standard power, high power and new plasma emulation mode with all unique timing intervals, you can choose the right power for any given procedure. VALO cures all restorations due to combined dyes creating wavelengths of light that cure all lightcured dental materials with the touch of a button. VALO features a slender,aerospace aluminium body, making it lightweight and exceptionally durable.
VALO uses a custom, multiwavelength LED for producing a high-intesity light at 395-480nm. This broad-spectrum light output means VALO is capable of polymerising all light-cured dental materials-including those with camphorquinone and the entire range of proprietary photoinitiators. In addition, VALO's large 9.6mm footprint and optimally collimated beam delivers consistent, uniform power over a range of surfaces and working distances. Other curing lights' beams dissipate even at distances as short as 4mm, which results in significant energy loss to the curing site. The intensity and consistency of VALO's collimated beam, combined with the proprietary LED pack and broad-spectrum output, deliver the energy needed to completely polymerize any resin – even at distances as far as 10mm from the restoration site.
Read The VALO Story on our blog.
View the full range of Ultradent Products
To read more and find helpful tips visit Ultradent Blogs
– Collimated beam delivers a complete uniform cure
– Broadband LED's cure all dental materials
– Three curing options – standard, high power and plasma emulation
– Slender, aerospace aluminium body
– Lightweight and exceptionally durable
Buy now from Henry Schein
Hints & Tips
How concentrated does the light become with the PointCure lens attached?
The light is focused to a 2.5mm aperture, which makes it ideal for tacking veneers and all-porcelain crowns.
How long do veneers and crowns need to be tack cured with the PointCure lens?
For veneers, a 1-second tack cure with VALO light on high power mode is all you need. For all-porcelain crowns, a 2-second cure with VALO light on high power mode from the occlusal surface is sufficient in most cases.
Can TransLume lenses be used for curing?
No.
How should the various lenses be cleaned?
Cold disinfect the lenses using any surface disinfectant. Do not use an ultrasonic to clean the lenses. Do not autoclave.
My VALO Cordless light doesn't fit in the wall mount I received. What do I do?
The wall mount will fit both the VALO and VALO Cordless lights. Because the VALO Cordless light has a larger wand body, it needs to be stored upside down in the wall bracket.
How do the lenses attach to the VALO curing light?
Each lens is magnetically attached to the head of the light. The magnet is strong enough for a secure attachment, but still allows for easy detachment at the right time.