ADVANCED OPERATIVE AESTHETIC AND RESTORATIVE DENTISTRY (84 HOURS CPD)
The Course
The course is delivered by Richard Porter and Raheel Malik.
Richard is a Consultant Specialist in Restorative and Implant Dentistry and Oral Rehabilitation. He is a vastly experienced teacher having run over 100 hands on courses. He has a higher diploma in post graduate dental and medical education and is well published in peer reviewed journals in subjects including tooth wear, composite build ups, crown and bridge, gerodontology, occlusion and Endodontics. He is a lead clinician in restorative dentistry at St. Georges Hospital, London, and has a very successful private practice based in London. He has placed and restored over 2000 implants, has completed over 5000 root canals and countless direct and indirect restorations. He is on the GDC specialist list for Restorative Dentistry, Prosthodontics, Endodontics and Periodontology, is a father and husband and welcomes you to this great opportunity with The Aspire Dental Academy.
Raheel works in a private practice in Notting Hill. After graduating with honours from Biomedical Sciences, Raheel qualified as a dentist from King's College London, having won multiple awards as a student. In 2009, he won student clinician of the year and was 1st runner up in the UK finals. He also won the UK Dentsply/Ceram.X Case Contest in 2010, amongst many others. Raheel graduated receiving the prestigious 'Academy of Operative Dentistry' Award. He has also won awards since graduation. Raheel had his first publication in 'Aesthetic Dentistry Today' as a final year student and has since been published many times in several journals including the Journal of Oral Implantology, International Journal of Dentistry, Journal of Craniofacial Surgery and Dental Update. He has also been interviewed in the British Dental Journal and Dentistry magazine.
Teaching is provided through seminars, hands-on practical exercises and group discussions. Throughout the course emphasis is placed on the hands-on element.
Prior to each course day, delegates are encouraged to read publications provided online. In order for you to benefit from the day's teaching, we strongly recommend that these are read before each day. Further literature will be provided throughout the course, including comprehensive hand-outs to complement the days teaching.
Delegates will automatically enrol onto our online forum. This forum is for past and current Aspire delegates only. It provides you with a platform to discuss cases, seek help and have questions answered. Upon completion of the course, you will have continued access to the forum.
Accreditation & CPD
The course is EduQual Level 7 accredited which leads to a post-graduate certificate in Advanced Aesthetic Restorative Dentistry. This is subject to a satisfactory presentation of a clinical portfolio, guidance of which is given throughout the course. If you do not wish to partake in the accreditation, you are still able to complete the course without being accredited.
The post-graduate certificate sets you on the pathway to a diploma in Advanced Aesthetic Restorative Dentistry and Endodontics. In order to achieve the diploma, you also need to complete the "Advanced Endodontics" and "Advanced Occlusion "courses.
Each day is worth 7 verifiable 'Continued Professional Development' (CPD) hours and is in accordance with the GDC's enhanced CPD programme. Certificates will be given in December 2020 and at the end of the course.
Dress Code
There is no formal dress code for the course. However, you may wish to bring your tunic and loupes for the hands-on sessions at LonDec.
Venues:
The course is held over two venues:
Venue 1: Park Plaza, Westminster Bridge (Day 1, 2, 3 and 12)
200 Westminster Bridge Road
London SE1 7UT United Kingdom
Venue 2: Londec (Day 4, 5, 6, 7, 8, 9, 10, and 11)
King's College London
3rd Floor Franklin-Wilkins Building
150 Stamford Street SE1 9NH
Syllabus
Day 1: Smile Design and Patient Management
Day 2: Colour, Shade Assessment and Bleaching
Day 3: Clinical Photography
Day 4: Aesthetic Anterior Composites
Day 5: Veneers and Soft Tissue Management
Day 6: Aesthetic Anterior Crowns
Day 7: Aesthetic Posterior Composites
Day 8: Posterior Aesthetic Onlays and Crowns
Day 9: Tooth Surface Loss and Full Mouth Rehab
Day 10: Replacement of Missing Teeth
Day 11: Practice Day
Day 12: Advanced Treatment Planning & Fee Setting
Course Specific Details: Group 4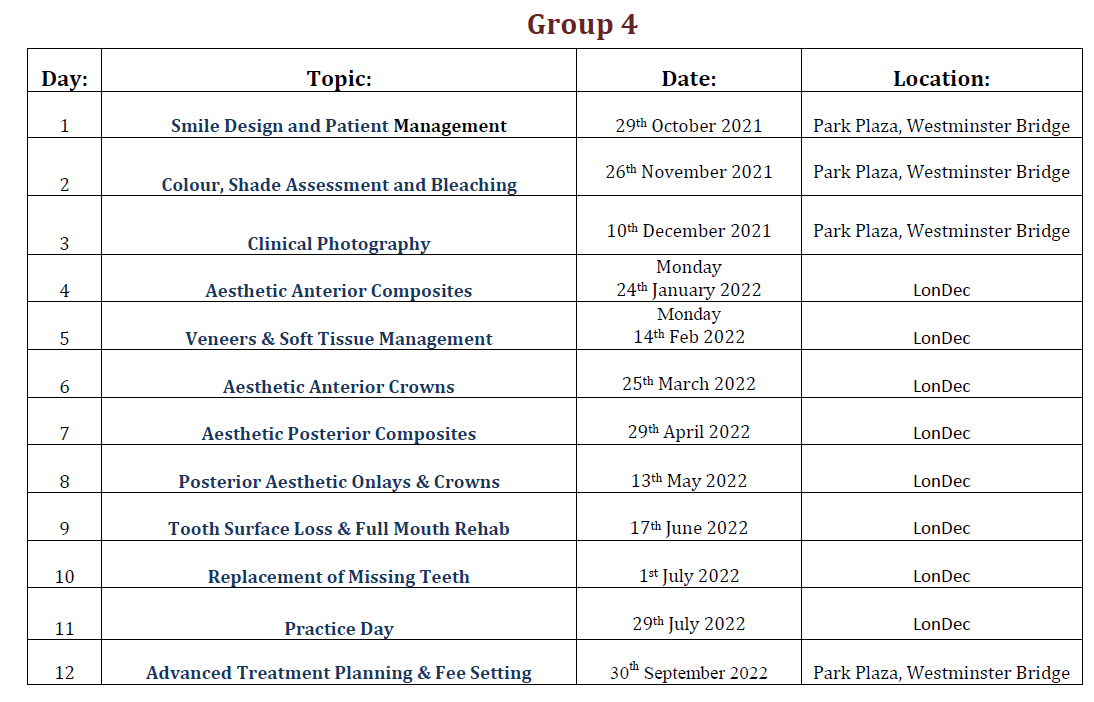 Course Fee:
To reserve your place on the course a deposit of £200 is required, which will be deducted from your final instalment.
Payments can be made in installments or as a single payment.
Each session costs £625 + VAT. Total Cost: £7,500 + VAT
Installment Deadlines:

Payments are accepted through bank transfer. Cash, Credit Cards, Cheques and banker drafts are not accepted.
Please feel free to contact us if you have any further questions:
Booking:
Please Email: info@aspiredentalacademy.com
More Information: Visit Website: www.aspiredentalacademy.com