Who We Are
Optident have been known in the dental industry for providing high quality, innovative and clinically supported dental products since 1987. With over 30 years' experience, we are proud to be a leading dental supplier; working closely with some of the most established manufacturers and key opinion leaders in the world.
Our aim is to offer our customers with much more than a product. We believe in offering solutions, adding value, and delivering great insight into the world of dentistry. Whether you're looking for hints and tips, videos or articles; our product pages are all designed with you in mind.
Optident believe in providing high quality dental products in the UK and offer a wide range of tooth whitening, dental composite, dental loupes, dental equipment, dental lasers, dental education and much more…
With our team of dental product experts, you can count on us to support you with all your dental supply orders and enquires. Our friendly team can be easily reached on the phone or through live chat, or alternatively we can contact you; simply fill out a quick enquiry form.
"
I would absolutely recommend this course. I am expecting it to transform my working practice.
"
(Full testimonial)
Dental Education
Join the Optident Elite and rediscover your passion for dentistry! At Optident, we are proud to create unforgettable experiences through our commitment to dental education. Our wide-ranging dental courses are designed to cater to every interest; covering subjects such as Laser Dentistry, Hygiene & Therapy, Photography, Restorative Dentistry and much more!
Whether you choose to learn in the UK or overseas, are a looking for an introductory course or a masterclass; our varied dental courses promise to deliver enjoyable and unforgettable learning experiences. Along with our spirited and knowledgeable team, you can expect to absorb valuable techniques from world leading clinicians, leaving with skills and memories to last a lifetime.
Dental Courses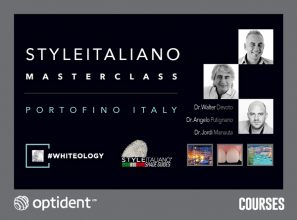 Learn from three masters of restorative dentistry on the exclusive shores of Santa Margherita, Italy. Covering everything from anatomy and aesthetics to photography and patient communication; this intimate masterclass is limited to just 15 people. CPD: 14 Hours Dates: TBC Join the waiting list now! Email: courses@optident.co.uk
This is a unique chance to see the developer of the Enamel Plus HFO / HRi composite system and one of the leading restorative dentists in the beautiful Ligurian Riviera, Italy. Taking place from 19th September 2019 – 22nd September 2019, this masterclass has been a much loved Optident event for over 15 years. CPD: 14 Hours
Blogs
Louis Mackenzie, provides the second of a two-part update on light curing.
Louis Mackenzie provides the first of a two-part update on light curing.
With fixed braces often taking a considerable amount of time, understandably patients are often eager to look their best during the treatment process. Unsurprisingly, a brighter and whiter smile is often at the top of a patients wish list, and professional whitening is recommended as the perfect treatment option following orthodontic work.