WE ARE DELIGHTED TO HAVE BECOME ONE TEAM WITH HENRY SCHEIN DENTAL
You can now order all Optident products through the Henry Schein website, and of course our friendly Optident team are always only a phone call away on +44 (0) 1943 60 50 50.
We are proud to offer a wide variety of solutions that help dental professionals across the UK practice better dentistry every day. These include Reveal clear aligners, White Dental Beauty Dental professional teeth whitening and CompoSite, must have endodontic files from Edge Endo, a range of restorative solutions and more!
Don't forget, now that we have joined teams, the Henry Schein Rewards loyalty programme is available to you. Join Rewards today and automatically earn points for all you spend with Optident (as well as Henry Schein).
At Optident we are also committed to dental education, having been an industry leader for over 30 years. We offer a range of courses to suit your needs whether at our training facilities at our Ilkley HQ, elsewhere in the UK, overseas, online or in practice. Expand your dental skills today and browse our latest courses today.
Please note: Due to Covid related absence carriers are experiencing delays throughout their networks – please be aware some areas are not able to offer a Next Day delivery service currently.
Dental Education
Join the Optident Elite and rediscover your passion for dentistry! At Optident, we are proud to create unforgettable experiences through our commitment to dental education. Our wide-ranging dental courses are designed to cater to every interest; covering subjects such as, Hygiene & Therapy, Photography, Restorative Dentistry and also our new online offering.
Whether you choose to learn in the UK or overseas, are a looking for an introductory course or a masterclass; our varied dental courses promise to deliver enjoyable and unforgettable learning experiences. Along with our spirited and knowledgeable team, you can expect to absorb valuable techniques from world leading clinicians, leaving with skills and memories to last a lifetime.
Dental Courses
Join Prof Hardan in London on 1st October 2022 for this unique masterclass to develop your knowledge and understanding in restorative & aesthetic dentistry.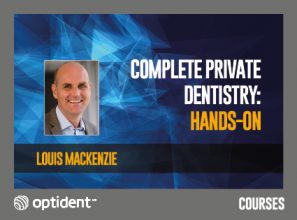 Join Dr Louis Mackenzie for this hands on course to develop your knowledge, understanding and practical skill in private clinical dentistry in Birmingham on 25th June 2022.
Join Speakers Dr Mohammad Al Hasani and Dr Hassan Hikmat and discover how to solve daily problems when restoring posterior teeth in direct restorations.
Blogs
Francesca Robson explains how Reveal clear aligners have become a popular choice with patients and given a boost to practice revenue.
Lucida Composite Gloss System, has been created by DiaShine and powered by Style Italiano to form the ultimate final gloss with enviable results.