At Optident we are always looking for the best solutions to support your practice's growth. This is why we've partnered with Henry Schein to bring you a fantastic opportunity to improve your work. Medpod  is a teledentistry solution to allow you to stay personally connected, 24/7, with your patients,  to triage dental emergencies and perform post procedure checks using video consultations.
This simple video conferencing platform helps you to communicate personally with patients and potential patients in a secure way without the need for additional software downloads or hardware that needs supporting. It can be used with any Laptop, PC, smartphone or tablet.
A leader in digital health and a trusted healthcare solutions partner with extensive clinical research and medical technology expertise, Medpod is meeting the difficult challenges of healthcare head-on. Equipping providers with a whole new approach to delivering efficient yet exceptional care. The advantage for practitioners? More effective and efficient care delivery for building patient retention. The benefit for patients? Earlier and increased access to care for improved treatment outcomes.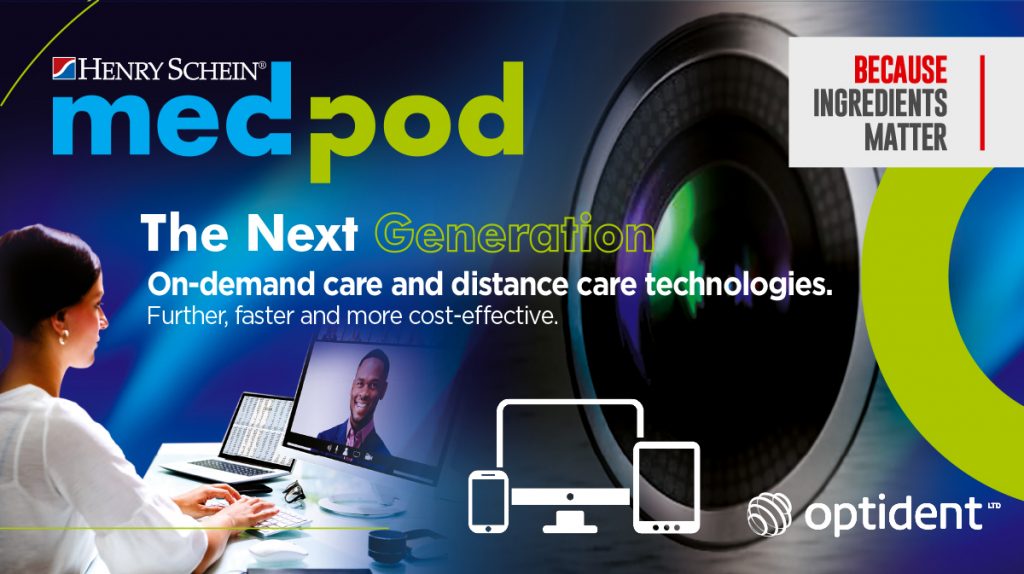 Medpod develops, aggregates and integrates medical software, hardware and physical infrastructure into seamless, innovative care delivery solutions.  It builds upon the foundation of telemedicine, while completely reinventing it! The result? Better healthcare, delivered more efficiently — further, faster, and more cost-effectively.
This technology enables any practice, ambulatory clinic, hospital system or healthcare organization to augment the medical care it delivers and empowers practitioners to improve patient lives and revolutionize healthcare as we know it.
Some of the benefits are:
On-Demand Video – provides virtual consultations to remotely assess and triage patients – enables post-procedure follow-up care – to discuss patient needs and required treatments like orthodontics including aligners or tooth whitening and cosmetic options. These can be revenue generators for the practice – Ideal for maintaining contact with elderly or patients with limited accessibility.
Patient Engagement – stay personally connected to your patients when you cannot be with them face-to-face
Chargeable – gives the opportunity to generate revenue for the practice
Patient After Care – the ideal way to maintain contact with patients after treatment.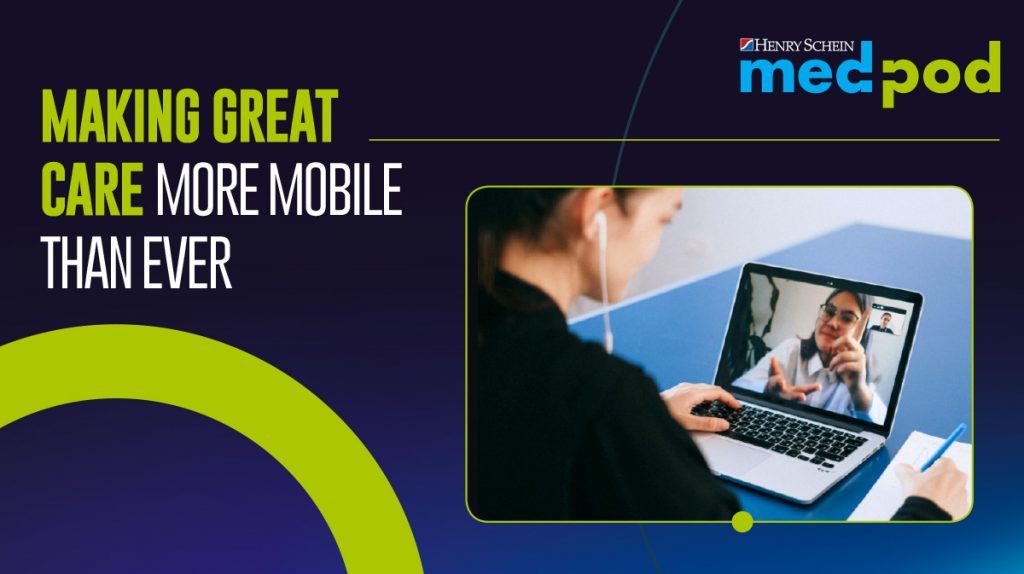 Maintains face to face contact with the patients – with current restrictions, caution around contact and distancing, Medpod is a way of having direct contact with patients in the practice. Show them you care
Reduced risk of exposure to infection – for all parties, dentist, practice staff, patients and families
New treatment option opportunities – can discuss other elective treatments like tooth whitening or orthodontics including aligners. 'Whitening focused days ' etc
Reduced costs of PPE and infection control products – with the current requirements around PPE and infection control, costs to the dentist have increased so Medpod is an efficient way to be face to face without need for additional products-
No other teledentistry delivers a 360° approach to extending and expanding practitioner reach, facilitating patient access to personalized clinical care, and creating workflow efficiencies that improve the business of healthcare.
By integrating all of these advantages — and so many more — into one comprehensive, single-source telemedicine solution, Medpod:Provides a cloud-based solution and works on Windows, IOS, and Android; Simplifies use across multiple best-of-breed, professional-grade diagnostic devices; Provides a single-user interface across the spectrum of integrated solutions; Works with an office's GDPR requirements.
We are offering an unmissable bundle to our customers!
Usually there is a cost to set up the Medpod platform and a nominal fee per consultations. With our special bundle, when you purchase 20 tooth whitening kits of our  White Dental Beauty,  you will get the set up for free PLUS 5 free of charge consultations*. Alternatively, you can purchase 10 tooth whitening kits of White Dental Beauty and get the set up for free PLUS 1 free of charge consultation.
White Dental Beauty is a worldwide dental brand, leading the way with high quality teeth whitening gels and professional composite systems; with different strengths and shades to suit every smile.
Contact us on 01943 60 50 50 if you have any extra questions.
*After your free consultations, a cost of £4/consultation will be charged