Reveal®
Clear aligners are a faster and more comfortable alternative to traditional braces, where the patient wears a series of clear trays over their teeth for most of the day. These trays put pressure on the teeth to move them into their proper place. Patients prefer clear aligners because of their improved aesthetics, higher levels of comfort and quicker treatment times.
Straighten with Reveal® Clear Aligners
Reveal® Clear Aligners offer a new solution for general practitioners and orthodontists to provide reliable orthodontic treatment to their patients that is both comfortable and aesthetic. With in-office implementation support and access to an array of unique marketing services, Reveal® can help dentists compete against direct-to-consumer aligner companies and grow their practices.
Reveal® Clear Aligners by Henry Schein Orthodontics deliver all of the health benefits of aligner treatment minus the inherent health risks of ordering aligners online. Reveal® gives you a safe and healthy clear aligner option.
How are Reveal® clear aligners different? 
Made from the crystal-clear ClearWear ™ material for true invisibility and less likely to stain or discolour over time. 

No or fewer attachments needed in most cases, unlike other providers, reducing patient chair time and close patient contact. 

Aligners are trimmed at the optimised height for maximum contact between the aligner and the soft tissue, to ensure a better grip in the mouth.

Web-based portal: Intuitive, simplified case submission portal lets us do the treatment plan, to support you in treating your patients.
Dental Product Shopper names Reveal® Clear Aligners a Best Product. Read this amazing article on Reveal Clear Aligners.
So Simple So Clear Next Generation Aligner Technology
Benefits of Reveal®
A precision fit with our proprietary ClearWear ™ aligner material ensures that the teeth move as quickly and comfortably as possible.
Discreet – No one will know that your patients are wearing aligners.
Less need for unsightly attachments in most cases increases patient satisfaction, plus reduces time spent in the chair and the amount of close contact needed.
Be able to monitor treatment and ensure that the progress the patient is looking for is being made.
Creating your Reveal® Aligners
We use an advanced manufacturing process to create clear aligners that provide the best aesthetics and a precise fit. The close fit of your aligners allows for exceptional tooth-specific control; this makes them more comfortable for patients and reduces the need for attachments in most cases. We smooth and shape the edges of the aligners so that they don't irritate the patient's gums.
Combine Reveal® with White Dental Beauty whitening and CompoSite to offer a full Confident Smile Makeover!
A Confident Smile Makeover combines the three areas of the smile makeover workflow to maximise the quality of your treatment. It is a non-AGP activity that enables you to fully transform your patients' smiles, considering all areas of aesthetics, whilst allowing you to correct any structural issues in the dentition simultaneously.
Why should I offer this to my patients?
Bundling cosmetic treatments together is attractive to patients as they will be able to achieve a stunning smile in one treatment process. This will allow costs to be reduced but also increase potential revenue for you. The Confident Smile Makeover also incorporates an aligner system that uses fewer to no attachments in most cases and is less likely to stain or discolour, while maximising patient comfort and aesthetics during treatment.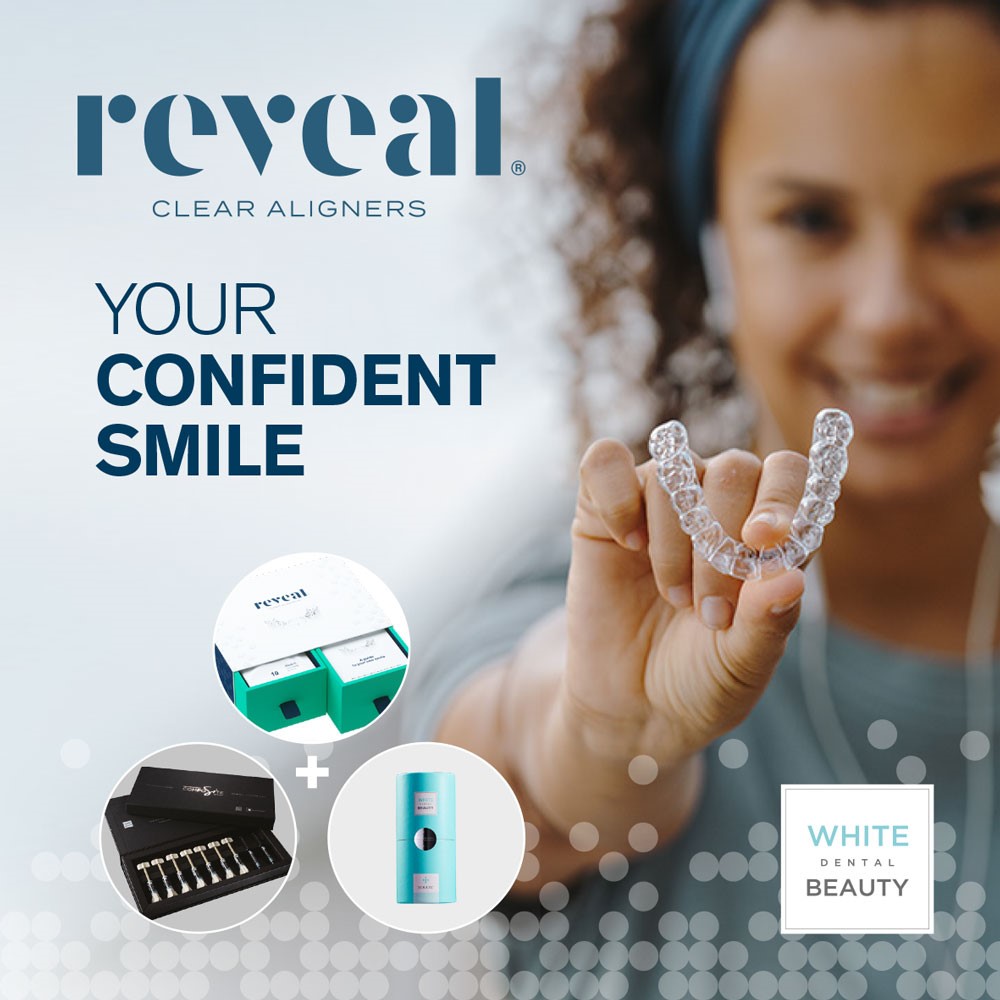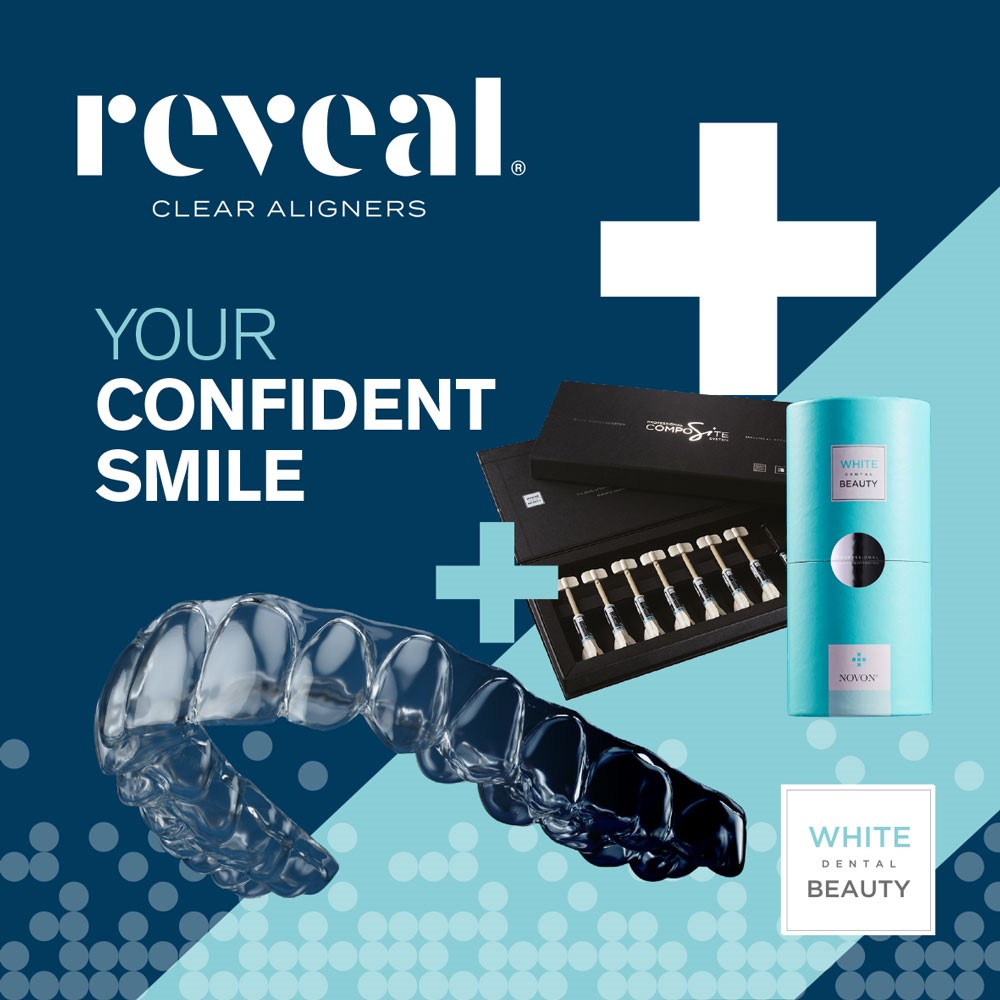 Restore with CompoSite

CompoSite from White Dental Beauty provides the perfect colour palette for restoring white smiles, meeting the modern demands of patients for impressive and affordable smile design. With five shades of white, this globally acclaimed system simplifies the restoration process, resulting in beautiful long-term aesthetics.
Why use CompoSite
Whether you prefer working with syringes or a compule gun, we have a CompoSite system to suit your needs
Offers excellent working time, high wear resistance, excellent handling, and a glass-like finish.
Two flowable shades available, including Masque to mask our darker shades and Multiflow for base/lining, class 5's, building up or cementing.
Whiten with White Dental Beauty

Delight your patients with White Dental Beauty, a globally recognised brand that provides innovative, high quality, clinically reinforced dental products.
Why use White Dental Beauty
Produced using NOVON®, an enhanced formula that delivers improved whitening results over less treatment time
Contain an active sensitivity management formula, along with a mild gel for sensitive teeth
Designed to be used by patients at home, which saves you valuable chair time and gives your patients an easy, convenient method to whiten their smiles
Visible results can be seen in less than a week!
Learning with Optident
Learn more about air abrasion and air polishing in our range of courses and masterclasses that can help you learn the most efficient and effective ways to clean and prepare with the AquaCare unit.
Browse our dental courses and develop your skills with industry leaders.
Book a Free Consultation
Discover how Reveal can change your practice with a demonstration free of charge available for any UK based dental professional. Fill out our consultation request form to book your meeting and start your journey with Optident.
Book your complimentary free consultation
Simply fill out the form below and one of our product specialists will be in touch to book in your consultation, completely free of charge.


;