All-Bond 3 Kit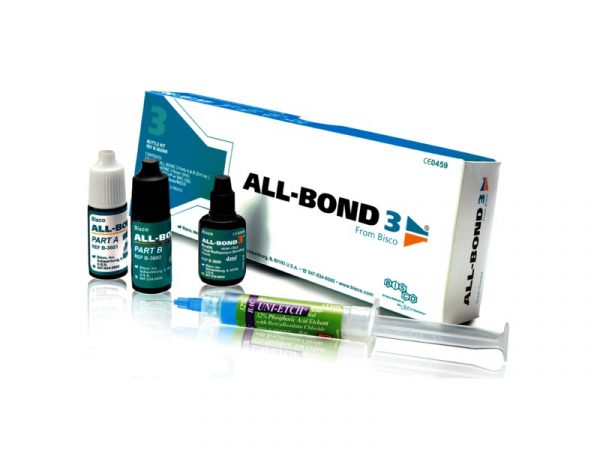 Product Details
Contents:
1 x 6ml bottle Part A
1 x 6ml bottle Part B
2 x 1.5g syringe resin
1 x syringe Uni-Etch
The All-Bond 3 Kit is a dual-cured, 3-step universal dental adhesive system that is compatible with all dental materials. It utilises improved All-Bond 2® technology making All-Bond 3 relatively more hydrophobic to enhance the durability of the bond. The new ethanol-based formula requires less number of coats and is more user-friendly than All-Bond 2.
All-Bond 3 RESIN is a hydrophobic radiopaque filled bonding resin. Its radiopacity outlines the restoration and reduces the risk of misdiagnosing caries. All-Bond 3 Resin is HEMA-Free. The absence of HEMA in the resin layer is a desirable feature that makes the bonding layer less prone to water sorption. Water sorption can be a critical cause in degradation of the bond as well as promotion of further decay in the tooth structure. Hydrophobic adhesives are expected to be more durable than current formulas in the market.
View the full range of Bisco Products
– Compatible with light, self and dual-cured materials (without the use of additional activators)
– Only 1-2 coats of Part A & B are required, ensuring a more uniform and ideal film thickness while saving application time
– All-Bond 3 Resin is radiopaque allowing visibility on radiographs in areas where adhesives commonly pool, reducing the risk of misdiagnosing caries
Buy now from Henry Schein