"We believe in creating effective, affordable & minimally invasive dentistry which will improve both health and aesthetics. Using a combination of tooth whitening and restorative materials, dentists can achieve outstanding and predictable results. This is the dentistry that the patients want and more importantly can afford. If we can deliver this using great materials that have long lasting, highly aesthetic results, then we will have a successful practice with happy customers that recommend us to family and friends" – StyleItaliano 
About StyleItaliano 
StyleItaliano, a growing community of skilled practitioners share our commitment to learning, and together we have joined forces to help you further your dental education. In addition to proudly accrediting and recommending our products; the StyleItaliano group boast a growing following of almost a quarter of a million, along with clinical expertise backed by a wealth of case studies, world class lecturers, courses and events.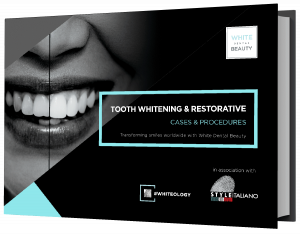 About this guide
With a growing demand to have the brightest and whitest smile, more and more patients are requesting cosmetic treatments to improve the aesthetics of their teeth. And with the significant technical advancements in dentistry over the past few years, we are now able to transform the colour and shape of people's teeth with more effective and less invasive methods.
This includes tooth whitening.
Offered as a standalone treatment or as part of a bigger restorative solution, tooth whitening is a popular technique used to transform the appearance of a person's smile without permanently altering the tooth's structure. The latest developments mean we are now able to offer effective bleaching solutions that are also kind to teeth…
Previously, dentists would strive to transform the colour of their patients' smiles using bleaching systems with 10-20% Carbamide Peroxide. Now, whitening products use percentages as low as 5% Carbamide Peroxide. There are also 6% Hydrogen Peroxide solutions – the strongest at-home whitening solution allowed by EU Regulations. It is recommended that before any restorative treatment is performed, the patient's teeth are whitened. This gives patients the opportunity to improve the colour of their teeth ahead of the treatment, and match the restorative work to the lighter shade.
And what about bonding? 
Traditionally indirect smile makeovers have often been expensive and time consuming, such as porcelain veneers that require multiple visits, lab work and technique sensitive bonding procedures.
Once you have mastered the art of direct composite veneers; smile makeovers and restorative work for bleached cases will result in drastically reduced chair time over their traditional counterparts. Composite promise to deliver minimally invasive, aesthetic results in minimal time; it also presents patients with an affordable solution, saving your practice money as procedures can be performed with simplicity and predictability (often in a single appointment).
                                                                                    Cases by Dr Osama Shaalan for the StyleItaliano Community*
Whitening and Bonding in Action
This eBook is a great guide compiling some of the most fantastic smile transformations delivered by experienced dentists all over the world using White Dental Beauty whitening gels and the Professional CompoSite System.
To demonstrate how tooth whitening and composite can be used effectively within restorative treatments, we have hand picked some amazing clinical cases from the StyleItaliano Community using our White Dental Beauty for you to sink your teeth into.
Enjoy!